India
A clash of colour, culture, cuisine: India is vibrant and full of life. It's also vast, and its size and varied scenery lends itself perfectly to train travel. Discovering the treasures of this charming country is high on many bucket lists for good reason, there are so many once-in-a-lifetime destinations it can be hard to fit them in on one trip but travelling by train means you only need to unpack once as you speed between breath-taking sights.
Gaze in awe at the Taj Mahal in Agra, its gleaming marble basking under clear blue skies. Wonder around the painted Amber Fort in Jaipur, home to ambling elephants and mirrored palaces. Catch a glimpse of the rare, beautiful tiger in Pench National Park. Along the way, sample delicious cuisine that varies across the states: creamy coconut curries in Mumbai and fiery deep-fried kachoris from Udaipur. It's an adventure for your palate.
Train Journeys though India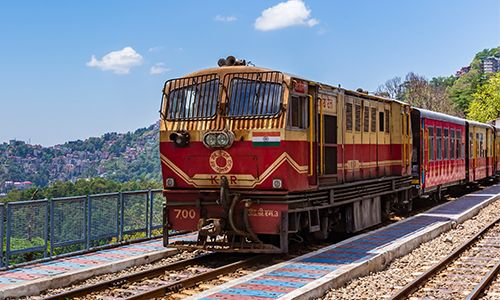 Shimla Toy-Train
Perched amid the soaring peaks of the Himalayas, the land of Shimla is the gateway to the foothills of this most majestic mountain range, where green valleys conceal a variety of wildlife, lakes shimmer in the sun and fine colonial houses hark back to the days of the Raj. Once the preserve of the Viceroys, Shimla became a popular holiday destination for escaping the sweltering Indian summers, with travellers making their way via the famous Kalka-Shimla railway. Travel on board the Himalayan Queen as she rattles along the 96km of track, taking in the hundreds of bridges and tunnels as well as the impressive views.
Passing 103 tunnels and 700 bridges through the foothills of the Himalayas on the Kalka-Shimla route
Travelling in the footsteps of the well-heeled British expats who used the route to escape the hot summers
Gazing out at views of the stunning Himalayan mountain range
Awe-inspiring views of craggy mountains, lush pine forests, cascading waterfalls, verdant valleys and picturesque hill stations
Call to book
0800 196 982
Book with confidence
Book with complete confidence with us as we are members of the Travel Agents' Association New Zealand.
Fully Protected
You're in safe hands with a reputable, accredited travel agent.
Service & Expertise
Our experienced team create unique rail holidays tailored to you.
Highly Recommended
4.5/5 of our customers would happily rebook with us.
Exceptional Value
We're obsessed with delivering exceptional value on every rail holiday.