Book Now for 2021
2021 Indian Pacific & Perth Discovery
3 night all-inclusive rail journey
Perth, the capital of Western Australia and famed for being the most isolated city in world, is where you'll begin your holiday. During your five night hotel stay, you'll relish the opportunity to explore this fabulous city both at your leisure and through a series of deluxe tours.
As ...
From:
$4,299
pp
Book Now for 2021
2021 Indian Pacific & Sydney City Escape
3 night all-inclusive rail journey
Perth, the capital of Western Australia and famed for being the most isolated city in world, is where you'll begin your holiday with a hotel stay. Walk amongst the breathtaking array of colourful flora in the botanical gardens at Kings Park, indulge in a wine-tasting and vineyard experience at...
From:
$3,799
pp
About the train
Experience one of the few truly transcontinental rail journeys in the world with a voyage on board the Indian Pacific service, which travels across the breadth of southern Australia in incomparable style. Part of Great Southern Rail, the Indian Pacific speeds from coast to coast on a storied journey that follows in the footsteps of bush pioneers, gold rush greed, and famous adventurers who forged to discover the barren natural beauty of Australia's famously unforgiving outback. The classic transcontinental journey takes four days and three nights, though the Indian Pacific also makes charter services for those who want to explore deeper into the bush. Throughout, there are off-train excursions to Adelaide and her surroundings, the Blue Mountains and Perth, so you can stretch your legs and explore the most remote corners of this inhospitable yet intensely welcoming land.
The dream of a transcontinental rail service began in the 1890s, but it was not until 1969 that an uninterrupted rail track linked the Indian Ocean in the west to the Pacific Ocean in the east. The train's first full transcontinental journey took place on 23 February 1970, when more than 10,000 people welcome the historic train to the city of Perth.
Today, the 774-metre-long train travels the 4,350 kilometres between Sydney and Perth in approximately 65 hours. It is instantly recognisable by its bold wedge-tailed eagle emblem.

On-board experience
Stepping aboard the train evokes a great sense of anticipation, as you embark upon one of the world's finest coast to coast crossings, on the longest stretch of straight railway track in the world. You will enjoy the finest dining, drinks and off-train excursions as you stream across the country, while relaxing in the luxurious surroundings.
While service on board is exceptional, it is also laidback in a way that you can expect when travelling in Australia; there's no need to dress up unless you specifically want to, and socialising with other guests is encouraged. However, if you'd prefer to relax in your cabin and enjoy the views with a book or the train commentary, that's perfectly acceptable too.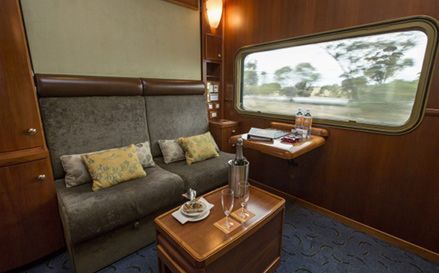 On average, the train comprises some 30 different carriages, including guest cabins, crew quarters, restaurant cars, lounges and power vans. The length of the train is around 774 metres, so you'll have plenty of space to stretch your legs on board. The accommodation carriages are modern, while the dining and bar carriages are replete with traditional Edwardian details. Separate to the dining car, the Outback Explorer Lounge provides a welcoming space to socialise with other guests.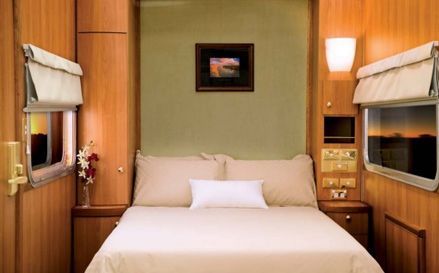 The accommodation on board is extremely luxurious, with different levels of opulence depending on what you desire from your escape. The modern cabin suites are hewn from wood and have all the comforts required to ensure you have a restful journey, and contrast beautifully with the elegant Edwardian décor of the dining cars, which have panoramic views of the passing landscape. Journey commentary can explain all of the sights as you rest in your cabin, so there's no need to miss out on any of the action.
Each Indian Pacific Gold Service carriage houses nine Twin cabins or 16 Single cabins. During the day, Twin cabins offer a three-seater lounge with space to relax, which is transformed into upper and lower berths at night. Your attendant will provide you with crisp sheets, bath towels, pillows and complimentary bath amenities. Single cabins have a lounge chair and foot rest, which is converted to a level sleeping berth at night, a wash basin, and use of shared toilets and showers located at either end of the carriage. A limited number of Superior Double cabins are available, with a third upper bunk, a three-quarter size bed and lounge area. These sell out very quickly.
Platinum Service cabins have double beds, which can be arranged as a double or twin, and are set up as a lounge with a moveable table and two armchairs during the day. There is a full en suite bathroom with shower, and the décor is distinctly Australian in style.
If you're looking for the utmost in elegant rail travel, consider chartering the Chairman's Carriage. With four cabins and the entire carriage to yourself, you can enjoy the magnificent detailing, earth-toned fabrics and luxurious amenities. The carriage also has its own multi-purpose dining area and lounge, furnished with leather banquette seats.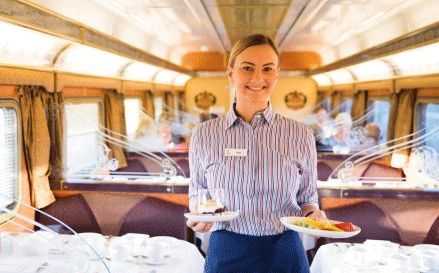 As well as the ability to personalise your off-train excursions and dining on board, travelling on the Indian Pacific also means you can choose your level of service, so you end up with a journey that's just right for you. The most popular choice of service is the Gold Service, which includes Twin and Single cabins, all-inclusive dining in the Queen Adelaide Restaurant with a choice of Australian wines, beers and spirits, short stops and excursions.
Discerning travellers who enjoy the finest things in life will appreciate an upgrade to Platinum Service, where discreet, personalised touches ensure your whole journey is world class from start to finish, including unparalleled dining and accompanying wines, plus Bollinger champagne. Also included is Australian-made bath amenities, a nightcap at turndown, and access to the Platinum Club, where you can relax amid quartzite tables, leather banquette seating and brass fittings. Depending on where you're headed, private transfers are also included.
If you're celebrating a special occasion, or simply keen to push the boat out, the Chairman's Carriage may be for you. Chic, secluded, evoking the Golden Age of rail travel, this entire carriage is available for private charter for groups of family, friends or a couple looking to make the most of their trip, on selected departures between Sydney and Perth. The Chairman's Carriage features three Platinum Double cabins and one Platinum Twin cabin, accommodating up to eight guests.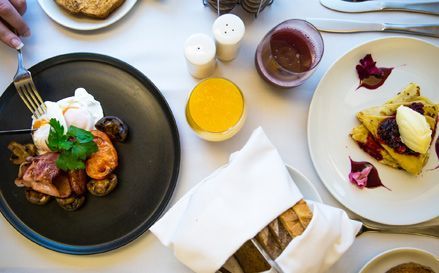 Your dining options depend on the level of service you have opted for, but all meals take place in the beautifully appointed Queen Adelaide restaurant car or the Platinum Club. Menus change frequently and feature Australian cuisine and more international flavours, plus sumptuous local wines. Dishes may include mouth-watering saltwater barramundi and kangaroo fillet, or outback lamb. Platinum Service guests receive more diverse dining options and can expect sumptuous breakfasts served in-cabin on request, two-course lunches and delicious four-course dinners.
General Information
Smoking
Smoking is not permitted anywhere on board.
Wi-Fi
Wi-Fi is not available on board the train.
Book with confidence
Book with complete confidence with us as we are members of the Travel Agents' Association New Zealand.
Fully Protected
You're in safe hands with a reputable, accredited travel agent.
Service & Expertise
Our experienced team create unique rail holidays tailored to you.
Highly Recommended
4.5/5 of our customers would happily rebook with us.
Exceptional Value
We're obsessed with delivering exceptional value on every rail holiday.